Back to School with Carmex Minis Lip Balm: Compact, Convenient and Caring for Your Lips!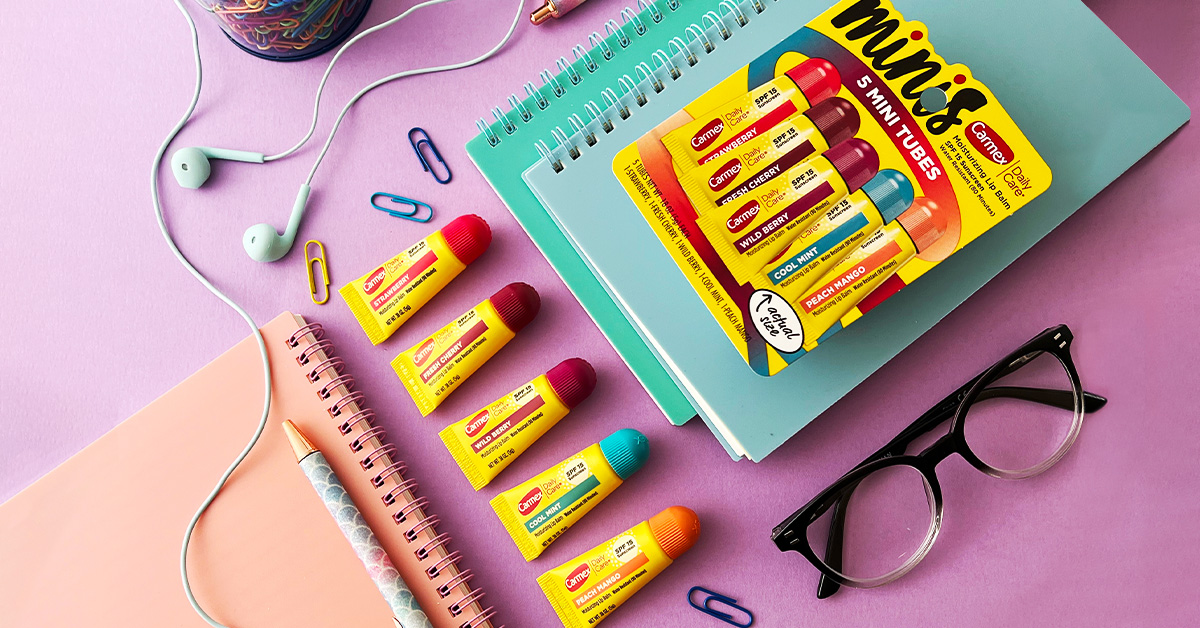 Heading back to school can be an exciting yet busy time. With new classes, assignments, and activities, it's important to stay prepared and take care of yourself, including your lips! That's where Carmex Minis lip balm comes in, offering a flavorful, multipack option that makes lip care during the school year easy, convenient, and fun.
Here at Carmex, we understand that flavor plays a big role in your lip care needs and that's why our Carmex Minis offer an array of delightful flavors to choose from. With refreshing options from Fresh Cherry, Strawberry and Peach Mango to Cool Mint and Wild Berry, there's a flavor to suit every preference. The Carmex Minis multipack includes 5 flavored lip balms in one package, ensuring that you have a lip balm handy wherever you go. Keep one in your backpack, another in your locker and one in your pocket. With a Carmex Minis multipack, you'll never have to worry about running out of lip balm during your busy school days.
Lip balm is an essential item for any student's back-to-school checklist. It helps combat dryness, chapped lips, and harsh weather conditions. Carmex Minis lip balm is designed to provide effective lip care, moisturizing and nourishing your lips throughout the day. Its formula, enriched with ingredients like cocoa butter and lanolin, keeps your lips soft, smooth, and moisturized.
But lip care doesn't have to be a mundane routine. With Carmex Minis lip balm, it becomes a fun experience! The variety of flavors and the vibrant packaging add a playful touch to your daily lip care routine. Applying Carmex Minis lip balm becomes an enjoyable moment, leaving you with moisturized lips and a smile on your face as you tackle your school day!
Sources: This blog post was written in part by OpenAI's ChatGPT (July 2023)
Back To Blog